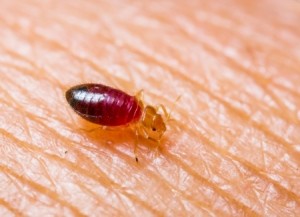 Male and female bed bugs feed on human blood for their survival. These beg bugs are the most active only during the night hours, when humans are fast asleep. They suck on the blood, causing irritating, itchiness, swelling and inflammation on the skin in some of the cases. When we spot red marks on our hands or necks the next morning, we usually ignore it or tend to apply some oil and forget about it. However, suddenly when these marks starts swelling up or when skin starts bleeding or when there is a case of severe inflammation, we realize our mistake of not diagnosing it at the initial stage itself. This brings us to the question, how do we know if a bed bug has bitten us? Read on to know the answer for this important question.
Important clues
Here are some important clues which will tell you that you were bitten by a bed bug:
Small, flat and red marks on the areas like legs, hands, neck, face, arms and all areas of the body which is uncovered during sleep
Itchiness, redness and severe swelling within a day or couple of days of getting bitten
Sizeable number of red marks, all within close proximity to each other, leading you to believe that you might have been bitten by more than one bed bug
Burning sensation of the skin in areas where skin is red and itchy
Bites of bed bugs are always in the form of groups either in a straight line or in a zigzag line.
What to do immediately after noticing the red marks
Irrespective of the type of insect that you bit you, washing off the bit-areas with a disinfectant solution is considered to be a very good practice. This way, you can wash off all infections quickly and prevent the bite causing you severe problems like inflammation, swelling and bleeding. These marks are also proofs of the harsh reality that your building has been infested with bed bugs. Once you realize this, there is absolutely no more time to waste, as you need to get into action right away.
You should first call a reputed pest control company like Toro Pest Management in Bronx, New York, so that you get one of the best experts to provide you cost-effective, customized, practical and permanent solutions to get rid of bed bug infestations for good. Toro uses the latest technology to control the growth of beg bugs in your area, which gives you a high value for money. Toro has a wide experience in dealing with bed bugs and knows exactly what kind of solution you need, after conducting a personal study on the intensity of infestations at your place. With a highly experienced pest control agency like Toro to support you, you can be sure of getting high quality service. If you are based in and around Bronx, call up on Toro's helpline number any time during the day to get immediate assistance.